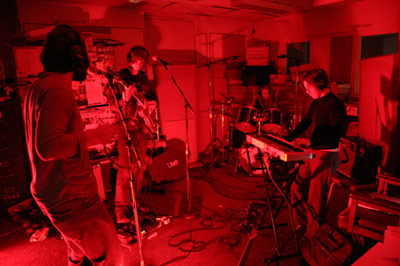 Imaginez un groupe qui serait la parfaite symbiose du
Velvet Underground
et du
Creedence Clearwater Revival
dans les 60's et 70's ou plus proche de nous de
The Warlocks
, de
The Brian Jonestown Massacre
, de
Black Rebel Motorcycle Club
et de
The Dandy Warhols
.
Ce groupe existe bel et bien. Si, si ! Il s'appelle
The Black Angels
.
Ce groupe texan formé en mai 2004 avec Stephanie Bailey (batterie et percussion), Christian Bland (guitare), Alex Maas (chant, guitare), Jennifer Raines (synthé et drone machine), Nate Ryan (basse, guitare) et Richard Whymark (projection) fait une musique psychédélique évoquant l'esprit des années 60 et inspirée voire habité par tous les groupes précités.
La musique du groupe se veut être une peinture d'une nuit passée à contempler une lune rousse, un plongeon au cœur du Texas en compagnie des fantômes de Nico et de Timothy Leary rappelés de l'au-delà pour inspirer
The Black Angels
et nous proposer des aller-retours entre l'enfer et le paradis.
La discographie de
The Black Angels
est sommaire et se limite à deux EP non distribués, pour l'instant, chez nous, et presque introuvable aux States:


The Black Angels EP (CD):
1.) Black Grease
2.) The First Vietnamese War
3.) Winter '68
4.) Manipulation




The Sniper at the Gates of Dawn EP
1. Black Grease
2. Empire
3. Better Off Alone
4. Bloodhounds On My Trail


Audio:
Black Grease :
http://www.lightinth...lack_Grease.mp3
Live @ KVRX 14/11/04
Empire Lonely :
http://www.kvrx.org/...ckAngels_04.mp3
Soviet Union :
http://www.kvrx.org/...ckAngels_05.mp3
Vidéos
:
Vietnam :
http://www.apiproduc...ent/Vietnam.mp4
Bloodhound :
http://www.apiproduc...dhound_live.mp4
Liens:
http://www.theblackangels.com
http://www.myspace.com/theblackangels
https://www.lightint...?product_id=166